We in the Pantanal realize that our land is special. By offering Pantanal wildlife tours, we share one of the richest and most bio-diverse areas of our planet with our guests. The Pantanal contains broad stretches of plains and wetlands. The roads and rivers are the easiest way to travel to spot wildlife. During a Pantanal wildlife tour we take full advantage of sightseeing by car and boat. Along with options to travel on horseback and by foot, these four methods of experiencing the rich wildlife ensure that our guests fulfill their goals.
Pantanal wildlife tours highlight the best of what can be seen in Pantanal. The waters revitalize the land and provide the biggest natural fish breeding ground in the world. Along with the well-known piranha, dorado and surubim flash close to the surface for viewing. Pantanal wildlife tours include multiple chances to see nearly 620+ species of birds. Mammals like jaguar, anteaters, capybara and monkeys are only a few of the animals to see and photograph.
Professional photographers realize that Pantanal safaris guides can shepherd them into the perfect spot for an eye-catching photo. By maneuvering the boat and cars precisely. The experienced local guides supply the optimal position regarding lighting and placement. If professionals consider Pantanal Safaris the best, then our regular guests benefit by coming again and again to enjoy the Pantanal.
The Pantanal offers a variety of lodges, pousada's and hotel. They differ in service, level of luxury and price. We selected the finest lodges for our Pantanal wildlife tours. All lodges are located alongside the Transpantaneira road. The Transpantaneira road connects the city of Poconé and Porto Jofre.
Based upon the designed itinerary and focus on particular wildlife we choose the lodges which can accomodate best your preferences. In many occasions we can choose between lodges for the designed itinerary. Together we choose what lodge is most convenient to you.
More detailed information about the lodges and all services from each lodge can be found on the following link:
Our Pantanal wildlife tours start from the City of Cuiaba. Depending your travel schedule we can welcome you at the Cuiaba airport (Marechal Rondon international airport) or at your hotel. after a welcome we start our drive towards the city of Poconé. Poconé is the gateaway to the Pantanal. From Cuiaba to Poconé is 100KM drive. Depending the itinerary we continue our drive onto the Transpantaneira between 10 and 80 KM.
From Cuiaba to the city of Poconé we drive in a minivan or comfortable car. From Poconé to our first lodge it is possible to choose an open safari truck to enjoy the surrounding and wildlife along the Transpantaneira road. Another option is a minibus (AC) for more comfort.
An experience to be rembered a lifetime. That is our goal for each and every client. Therefore we offer Pantanal wildlife tours and the option to customize an itinerary to your personal liking. Understanding your preferences and interests when visiting the Pantanal is the starting point for designing your tailored Pantanal wildlife tour.
All tours can be designed in terms of duration, focus on specific species of wildlife/birds and the level of luxury during your stay in the Pantanal. Choosing the preferred type of transportation is possible as well. We accomodate transfers by minibus (AC), an open safari truck or fly in by plane to start your fly drive safari. The fly drive safaris are possible when the start of the tour is spend for a jaguar safari.
Travelling with young children? We know what to do! Special Pantanal programs suitable for young children are part of our experience. By including comfortable lodges with swimmingpool and ensuring breaks in between game drives.
Besides game drives by car and boat we offer exploration on foot and on horseback as well.
Prices of our jaguar tours differentiate based on the following criteria:
Important to take into consideration when comparing prices are the following variables:
It is good to have a clear vision on what your prefer for your Pantanal wildlife tour and check if all is included in the tour.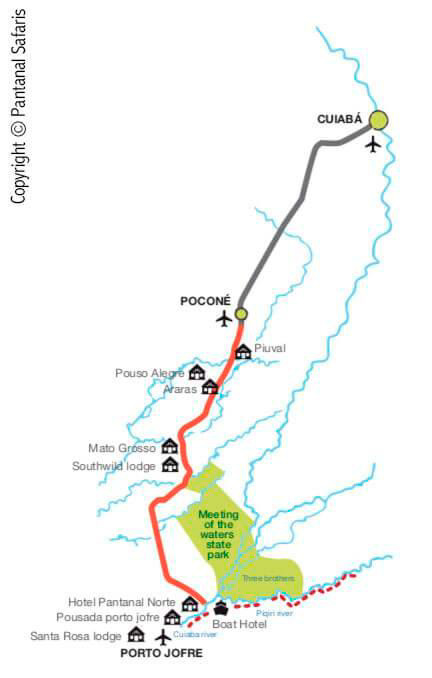 Pantanal wildlife tourpackages
These are example itineraries of a Pantanal wildlife tour. All our packages can be tailored to your personal preferences. If you have a specific wish or interest for wildlife, share with us and we design the best Pantanal wildlife tour for you.